Caribbean Stud Poker Table Layout
Below is a picture taken from
GoldenPalace.com
. It's a picture of a Caribbean Stud Poker table. Now even though this picture is taken from an online casino the table layout is typical of most Caribbean Stud Poker tables. There maybe a few differences, such a Jackpot wager circle instead of a slot, and the jackpot meter maybe located above, behind or in a different spot on the table.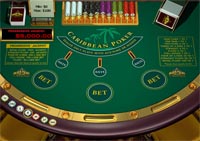 The important thing to look for when you sit down (virtually or not) at a Caribbean Stud Poker table are the following:
Check the table layout for the payout table. This will tell you what the payout will be for various hands.
Check the Progressive Jackpot to see if it's high enough to start playing at the table. Also check the Progress Jackpot payoffs. Knowing the minimum hand required is important.
Check the table minimum and make sure it fits with your bankroll. If it's too high find another table with a lower minimum bet.
Note where on the table layout you are to place your Ante wager and your Raise wager. These are usually circles marked Ante and Bet. You will notice that in the picture below the Ante circle is above the Bet circle and below the Progressive slot. On some tables these spots are lined up in a row or in a different order. Make sure to place the proper wager in it's proper space.